Get Involved
Every year, state legislatures consider legislation on mold and lead based paint liability, landlord/tenant relations, affordable housing and more. If you are not present and prepared to offer your perspective on these issues, who will?
Why Should You Be Involved in NARPM® Efforts?
Do you feel like the government understands residential property management? Could you help elected officials at all levels of government better understand your business and industry?
Nearly every state has a law regulating landlord/tenant interaction. Is the law in your state fair to both parties? Does it adequately protect your interests as well as the landlord's and the tenant's interests? Is there anything you would change about your landlord/tenant law?
Are property managers licensed in your state? Are you happy with the licensing laws in your state? If you are not licensed in your state, are there other groups seeking to change that? How do you feel about that?
Register today to participate in the 2019 National Day on the Hill.
May 13-14, 2019
Washington, DC
Make contacts with key Members of Congress and their staffs on Residential Housing  issues such as criminal background checks, certifying standards for Service Animals, and ADA reform.
Be a TriplePlay Investor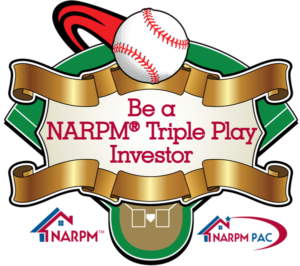 Please consider supporting NARPM®'s governmental affairs efforts by becoming a NARPM® Triple Play Investor.
• Your Triple Play Investment supports three important NARPM advocacy initiatives: NARPM® PAC, the NARPM® Advocacy Fund*, and NARPM® 2019 Day on the Hill.
• You will be recognized as a NARPM® Triple Play Investor.
• AND your name will be included on the petition to be handed out with NARPM®'s Talking Points to all legislators NARPM® attendees are visiting. (We will send you a final copy of the Talking Points once they are complete.)
Register today to become a Triple Play Investor.

*Donations to the Advocacy Fund will be used, in part, to defray the operating costs of NARPM® PAC, but will not be used to make contributions to, or to support or oppose, candidates. For more information about giving to NARPM® PAC, please contact Tyler Craddock at tcraddock@narpm.org.
Speak Up!
Lobbying and addressing YOUR government with your concerns is YOUR RIGHT under the United States Constitution. Elected officials serve at the pleasure of their constituents, and have a duty to represent the interests which are important to their constituents. YOU are a constituent, and your elected officials were elected to serve you.
Individuals lobbying can and do make a difference at all levels of government. Elected officials make important decisions every day, often with little input from their constituents. Elected officials want to know how their constituents feel about the issues they vote on. Elected officials cannot be experts on every subject they are asked to vote on.  They appreciate input from experts on topics with which they are unfamiliar.
It Starts at the Local Level
Your NARPM® chapter is likely the only organization in your area which specializes in single-family residential property management. Therefore, your chapter is inherently well positioned as the only expert to whom elected officials can turn for advice. However, elected officials are not likely to seek you out for that advice.
You must be proactive about seeking them out to offer your advice!
Working with the government through NARPM® and your local chapter, you will become part of a much stronger team that can communicate your concerns more effectively than any single individual. Your chapter needs your input and involvement to build a strong grassroots presence!