Written By: Greg Doering, MPM RMP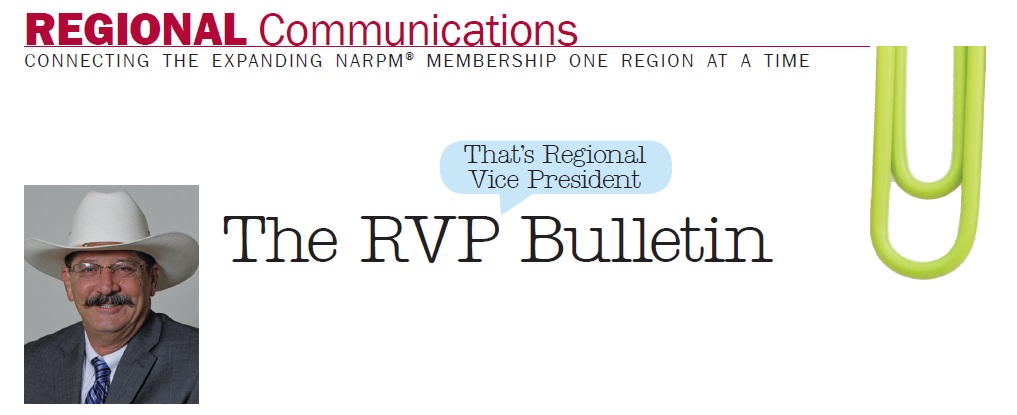 Are you getting involved? The Central Region Chapters are. It is an exciting year in our region. Great things are happening and everyone involved is reaping the benefits. Greater Dallas Chapter President Amy Karns, RMP, with the support of her board, has taken the bull by the horns and the results are impressive to say the least. (Make sure you read the Chapter Spotlight featuring the Greater Dallas Chapter on page 8.) We are halfway through the year and the region is on track to finish strong. The Central Region has made great strides in advancing throughout the year. Strong chapter boards are working on the plans laid out at the Leadership Training last November in St. Louis, Missouri. Before we know it, it will be time to elect next year's chapter boards of directors.
As I review the activities of our chapters, I am reminded of the benefits that involvement in the local NARPM Chapters offers. The local meetings, the educational opportunities, and the professional and personal friendships made are invaluable. Truly, some of the friendships I value most have been formed due to my involvement with NARPM. I remember the first time I attended a presentation by Mark Kreditor, MPM RMP. I believe, I was the only one in the class that understood what the term Tin Pan Alley was, but it took several classes to understand what some of the other Mark-isms meant. I was so eager to learn anything regarding property management that I believe I drove to Dallas four or five times my first year in the business. In the early years, I know, if Mark would have held a class on "how to wash your car," I would have attended, as I always left his classes a more professional property manager than when I arrived. I am grateful to Mark for his involvement in teaching and sharing that encouraged me to be personally involved in making the commitment to attend every educational opportunity I could.
The NARPM San Antonio and Greater Dallas Chapters have donated time to work their respective food banks. Several chapters have conducted NARPM Designation classes, held specifically to assist members as they continue to move to a higher degree of professionalism. Brad Larsen, MPM RMP, and Michael Francis have traveled to many chapters conducting presentations of their respective classes, How to Grow to 500 Doors and Death of a Tenant.
The NARPM Fort Worth/Mid-Cities Chapter sponsored a leasing forum/educational event that was
open to the Greater Fort Worth Association of REALTORS (GFWAR). Not only was this educational event a great promotional opportunity to the GFWAR, it also was productive in recruiting several new chapter members. Chapter President Alan Ellis, RMP, and his board held a Trade & Technology (TX2) Expo/Vendor Fair for the June meeting. It was a sellout event with great feedback from both members and terrific affiliate members.
The NARPM Texas State Chapter in Formation (CIF), founded under President James Alderson, MPM  RMP, and now skillfully being led by President Angela Gonzales, is having tremendous success. In addition to the Texas Style Conference that is held every year, the Texas Board, with special thanks to Mike Mengden, MPM RMP, has received state approval for many NARPM educational courses to receive Texas Continuing Education (CE) credit. Now, each Texas member can attend NARPM educational courses and receive credit towards their required continuing education hours.
Ron Wills, MPM RMP, and his team on the Communications Committee have developed a Members
At Large Newsletter to continue the NARPM value for those members that are not connected to a local chapter, due to distance. A big shout out and thank you goes to NARPM Austin Chapter Past President Mike Gonzales, RMP, for the great job of creating the newsletter template. If you don't know Mike, he is one of those behind-the-scenes guys that rarely takes credit, but always gets the projects done.
Get INvolved is another way of saying give back. When you Get INvolved, you not only benefit
yourself by growing in knowledge, gaining both professional and personal friendships, but you give back. You invest in others. By getting involved, the NARPM Central Region Members are contributing to the success of their local and state chapters. Future NARPM Members will see the value and benefit of NARPM, as so many of us did when we joined this great organization. I encourage you to Get INvolved by attending an educational event, contributing to the Discussion Boards, and asking your local chapter's leadership how you can contribute.
Current editions of the award-winning Residential Resources magazine is sent eleven times a year to members. Join NARPM to receive all of the benefits of membership and receive current editions.
---
Copyright © 2023 National Association of Residential Property Managers®. All Rights Reserved. Do not reprint without permission.