Members Save 10% Through November 17

Being a NARPM Member means receiving valued benefits like discounts on products and services that really matter to you. This month, our partnership with Lowes ProServices is bringing you exclusive fall savings!
Starting on October 16, 2017, Lowe's ProServices is offering our members 10% off materials and services when you use your new or existing Lowe's Accounts Receivable Card (LAR). Don't delay, this offer ends November 17, 2017.
Don't have a Lowe's LAR Account? Click here to apply, and then fax the completed application to 877-896-3839.
For existing Lowe's LAR Accounts – Click here and register providing affiliation ID code: P007, NARPM.
If you're not a member, now it the perfect time to Join NARPM!
If you have any questions, please contact:
Brian Aguirre |National Account Manager – ProServices
1000 Lowes Blvd, Mooresville, NC 28117
(Cell) 770-639-4581 (Office) 704-758-5859
brian.aguirre@lowes.com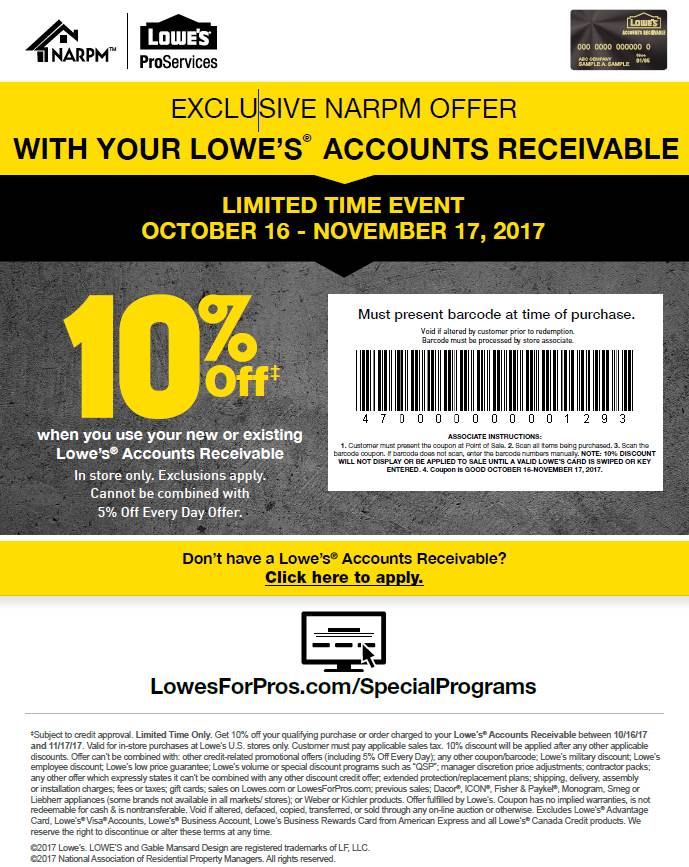 ---
Copyright © 2020 National Association of Residential Property Managers®. All Rights Reserved. Do not reprint without permission.