Darryl Kazen Memorial Scholarship
Are You Eligible?
The Darryl Kazen Memorial Scholarship will be awarded for the fifth time at the 2020 NARPM® Convention in Fernandina Beach, FL.  The Scholarship is open for an RMP® Candidate, who will receive their designation at the 2020 Convention, or for someone who received their RMP® since the 2019 Convention.  If you were recognized at the 2019 Convention Recognition Luncheon or before, you are not eligible. The award amount of $1,235 covers the Designation Application fee ($150), three 6-hour courses registration fees ($540), and the Basic Convention Registration Fee ($545).
The winner must be registered for the upcoming Convention. (This includes registration for virtual attendance.)
Have passed all required 6-hour educational courses.
Have 10 hours of participation at a local, state, or National level through volunteer hours.
You must have already paid the amounts listed above, so you will be reimbursed by the Scholarship.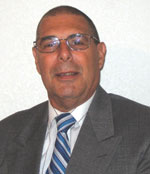 Darryl Kazen, MPM® RMP®,  gave many years to the NARPM® organization through, not only his membership, but he was a NARPM® National Instructor, Designations Auditor, and a mentor to many NARPM® Members.  This Scholarship honors his commitment to NARPM® and excelling the profession of Property Management.
This year's Darryl Kazen essay question is "At this point in your journey, if you could begin again, what would you change and what could NARPM do to help you?"
Scholarship recipient will be selected by the Professional Development Chair and Designation Subcommittee Vice Chair at least 30 days prior to the National convention.  The Scholarship Recipient will be announced at the National convention.  Submission deadline is August 14, 2020.
---
The Darryl Kazen Scholarship Application package must be submitted in its entirety,  except for letters of recommendation.  Incomplete application packages will be rejected. 
Email your completed application to:
educationinfo@narpm.org
You
must
put
Darryl Kazen Application
in the subject line, to be considered.
Or mail to:
NARPM® National
c/o Darryl Kazen Application
638 Independence Parkway, Suite 100
Chesapeake, VA 23320
---
If you have questions, contact us at 800-782-3452