Written By: Eric Wetherington, MPM RMP 2019 NARPM® President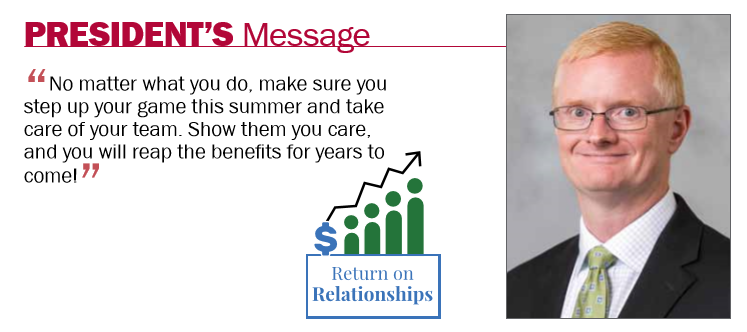 If you've ever driven the famous Road to Hana on the beautiful island of Maui, you know about all the crazy twists and turns on that road. Over the course of 52 miles, there are a staggering 620 curves. But around each curve, the most breathtaking views of the mountains and the ocean await.
For those of us in the property management business, the busy summer season is right around the corner. The months ahead are famous for stressing out property managers and support staff as the volume of applications, move ins, move outs, and problems increase. During this time of year, it is more important than ever that leaders make sure they are taking care of their teams. When stress levels go up, it is easy for your team to get discouraged. Take time this summer to plan some fun activities in your office. Some ideas you might consider include:
• Have an office/family picnic with games.
• Take the office on an overnight camping trip/retreat.
• Implement 'Popcorn Tuesday' or 'Ice Cream Sundae Friday' in your office.
• Have an office corn hole tournament.
• Take the office out for bowling, go-cart racing or laser tag.
• Have potluck Fridays and cook something on the grill each week.
• Send the team to the spa.
• Have someone come to the office and give chair massages (one of my team's favorites).
No matter what you do, make sure you step up your game this summer and take care of your team. If you think your office is too busy to take time to do something fun, I would counter that you are too busy not to take the time to show your team how much you care and that you appreciate all their hard work. Show them you care, and you will reap the benefits for years to come!
I hope you are making plans now to attend our 2019 Annual Convention & Trade Show at the beautiful Arizona Grand Resort & Spa in Phoenix, Arizona. Convention Chair Pete Howlett, RMP®, and his dedicated committee are working hard alongside our NARPM® National Staff to plan an amazing event. The convention will be packed with great speakers, fantastic training, innovative vendors, and awesome networking opportunities. If you are involved in any position within the residential property management industry, this is a must-attend event for you.
While you are at the convention, make plans now to play in our Past President's Charity Golf Tournament, which will be held on Tuesday, October 15, 2019. This year, the golf course is located on-site at the Arizona Grand Resort, making it easy for you to play in the event and benefit from all the great networking that goes on. In addition to playing golf, you can also contribute to our amazing charity, Jessie's Well Foundation.
To learn more about this great charity and our Past President's Charity Golf Tournament please visit https://www.narpm.org/ about/officers-and-board/charity-fundraisers. Thanks to the generosity and support of so many wonderful NARPM® Members, we are on track to achieve our goal of raising $125,000 and funding a water purification plant that is being built in Palenque, Haina, San Cristobal, Dominican Republic. I look forward to seeing you on October 15 in support of this great cause.
As I travel across the country representing NARPM®, I continue to be amazed by the relationships that NARPM® Members develop with each other. The stories of how NARPM® Members have stepped up to help each other in times of need are truly heartwarming.
Recently, I heard about a NARPM® Member who was making preparations for his wife to undergo brain surgery. In fact, the surgery was scheduled for the very next morning. Late in the day, he accepted a call from someone else in his state to discuss some business. The person making the call was also a NARPM® Member and usually enjoyed long conversations. He was concerned when he found out that this call needed to be short due to the pending surgery. He quickly took care of business, asked what hospital the surgery would be at in the morning, and ended the call. The next morning, a few minutes after seeing his wife wheeled away for surgery, in walks that other NARPM® Member, who drove all the way over from a different town, to sit with him during the surgery. That act of compassion and caring has led these two folks to have a wonderful relationship.
I hope that today you will take stock of what you have to offer and make an investment in a person who needs an encouraging word or a kind act. You never know the impact that you can have or the Return on Relationships you can create when you genuinely care about someone else.
Eric Wetherington, MPM RMP 
2019 NARPM® President
---
Copyright © 2023 National Association of Residential Property Managers®. All Rights Reserved. Do not reprint without permission.