Written By: Gail S. Phillips, CAE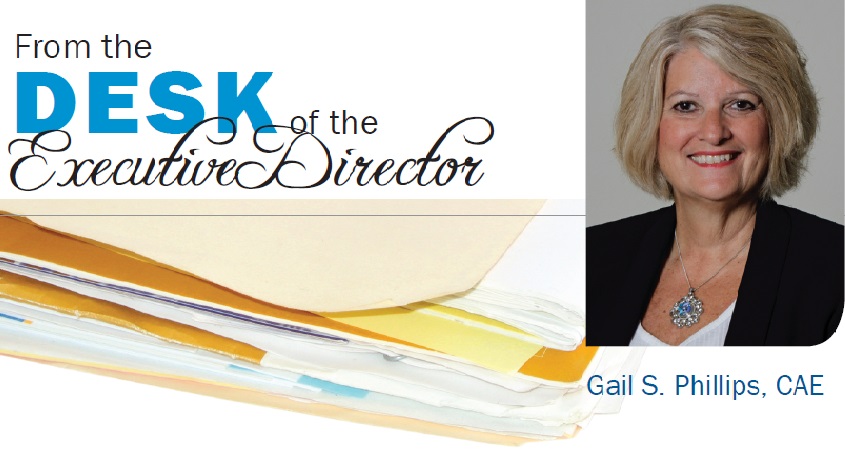 In this issue of the Residential Resource, I will run through a few of the initiatives NARPM® is undertaking in 2018.
The Communications Committee just released the new Members At Large Newsletter. It is a great communication vehicle for those members who do not belong to a chapter. If you missed it, check it out at https://www.narpm.org/narpm-members-large-newsletter. Thanks to everyone who took part in putting this together.
Have you seen NARPM® on social media? NARPM® has expanded its reach in the social media arena. Watch for all the postings and marketing of upcoming events and classes.
The Member Services Committee is running a beta test program on the New Member Recruitment campaign through July 31, 2018. Any member who refers a new member, and their name is listed on the membership application, will receive an electronic $50.00 gift certificate. The issued gift certificates must be used by December 31, 2018 and can go towards national convention registration or education classes. This program will only apply to individual Professional and Associate Members and will not apply to company membership or support staff. So, head out and sign up those new members and earn $50 gift certificates!
The Governmental Affairs Committee put on an outstanding Day on the Hill in May. On May 14, 2018, we had other associations and HUD come speak to attendees on what was taking place in DC. It was very educational and the Hill visits were outstanding. The NARPM® PAC is working on finalizing its distribution guidelines in order to use the funds that have been collected in future elections.
The Professional Development Committee is still working on enhancing the designation process and adding additional upgrades to the upload portal. They are working with staff on designing a quarterly e-newsletter that will be sent to designation candidates to help in tracking their process, provide tips, and much more.
Several classes are in the process of being rewritten, including the Distance Learning online classes. A new, 2-hour Disaster Preparedness online class has been added to the offerings, and a second one is on its way. The following classes will be offered at National Convention:
• NARPM® 101: Basics of Property Management (new course in 2018) taught by Bart Sturzl, MPM® RMP®
• Marketing for Residential Property Management taught by Melissa Prandi Moore, MPM® RMP®
• Office Operations – Policy & Procedures taught by Bev Perina, MPM® RMP®
• Growing your Business taught by Steve Schultz, MPM® RMP®
• Maintenance Basics & Beyond (rewritten in 2018) taught by Kathleen Richards, MPM® RMP®
• Ethics taught by Paul Arrington, MPM® RMP®
Also, don't forget this is the year when you must complete NARPM® Ethics in order to retain your professional membership. You can take the class online at https://www.narpm.org/education/onlinecourses or through a classroom offering.
President Birdy's theme of Get INvolved has brought many new volunteers to NARPM®. If you are not sure how you can become part of the volunteer movement, please contact any of the committee chairs. They have a number of projects going on and
need help. You can find the  list of NARPM Committee Chairs here, and while you are there, sign up!
NARPM® is having a very busy and productive year and we hope you can find the time to join in. Learn all that is going on in NARPM® through this magazine, the Friday Highlights, and NARPM® National Report eblasts.
Current editions of the award-winning Residential Resources magazine is sent eleven times a year to members. Join NARPM to receive all of the benefits of membership and receive current editions.
---
Copyright © 2023 National Association of Residential Property Managers®. All Rights Reserved. Do not reprint without permission.