Written By: Scott Abernathy, MPM® RMP®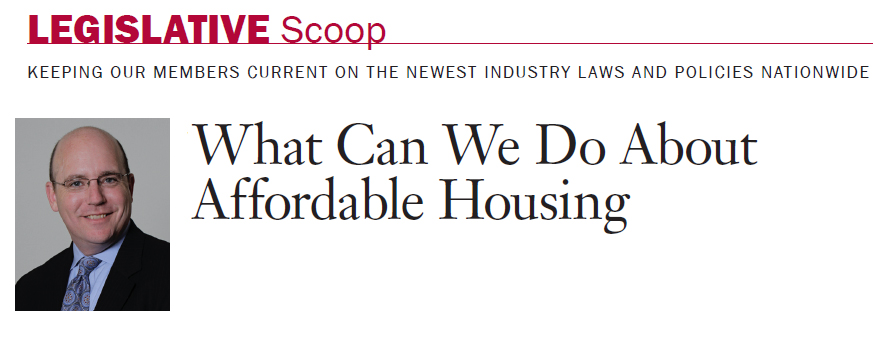 I have written about the national affordable housing problem in this column before, so you already know there are almost 40 million Americans that are challenged by their housing budget. What you may not know is this is approximately a 40% increase since 2007. Why would this be?
Obviously, most of the problem is economic. We have a huge building boom going on in this country now, but very little of it is constructing new or rehabilitating older affordable housing. The apartment construction trends are building in areas with easy transit options and offering lots of amenities. This is not conducive for someone already paying in excess of 50 percent of their household income on rent. They simply cannot afford swimming pools, club houses, cocktail parties, and the like.
Another reason for the rapid increase in the unaffordability of housing is cost of construction and rehabilitation. Land values have skyrocketed and labor wages, especially skilled labor, are rapidly increasing. Due to economic pressures caused by the recent floods, hurricanes, and fires across the country, building materials are more scarce, increasing their cost. If you add all these up, it is all
but impossible for a real estate investor to construct low-cost housing without a significant subsidy.
Finally, there is increased government regulation on development and construction. Everything from more stringent building codes (making our homes stronger and safer) to the Environmental Protection Agency rules (helping to keep our planet cleaner and habitats safer) have increased the cost to develop land and build housing. The government regulation is the part we are going to have to take a long hard look at if we want to help folks get into housing they can afford. There will be some tough conversations when it comes to health and safety needs, vehicle parking requirements, and the "not in my backyard" argument.
So, what if we decide to just bury our heads in the sand and pretend this will just go away? This problem is not going to just go away! Someone will solve the problem. Currently, across the country, you have municipalities, counties, parishes, and states trying to come up with ways to house their low-income citizens. Ultimately, if we leave it up to the government, the solution they provide will probably not be very landlord/property manager friendly. It could be something like creating a landlord license, requiring them to provide one low-income unit for every X-number they have in inventory, or mandating that you relax your screening standards to increase your debt to income ratios (note: I have not seen any of these anywhere, they are just ideas). You are already seeing local or state governments twisting their fair housing laws by placing "source of income" as a protected class, requiring landlords to consider child support, the housing choice voucher program (Section 8), welfare, unemployment insurance, and in some cases, even student loans as income. In addition, as most of you already know, you are seeing rent control spread across the country. I have yet to see rent control decrease rents in any community. It is an easy "feel good" mandate your community leaders can put in place, showing the electorate they are "doing something."
So who should we count on to fix this problem? It should be us! NARPM and other trade associations should take the lead in painting a new picture of affordable housing. We have got to think differently and address the tough issues, come together on a solution, and present it to our leaders, both in the government and business. Some ideas could be working with our wealthier clients to benevolently provide quality low-income housing or raising funds privately to offer grants to developers to build low-income housing. These are not suggestions, just ideas to get you started thinking.
We already have members putting serious work into this. Currently, Brian Wojcik, the NARPM Baltimore/Washington Chapter President, has been advocating for changes to housing policies that impact the single-family rental market. He has proposed a federal solution: To commission a Joint Office between HUD and the SBA that serves the Small Business and Independent Landlord for Rental Housing Innovation. Visit NAIL411.org for details. On legislative matters in his state, he is working with the Multi-Family Housing Council, a Chapter of the National Apartment Association, putting their heads together on this issue.
What we need now are fresh ideas. Those ideas come from you, our NARPM Members. We need you to dig deep within our association, take a different view of affordable housing than we have before, and offer up ideas. I know it is cliché to say, "think outside the box," but that is what we need to do. Offer suggestions to your Governmental Affairs Committee. No idea is dumb… and even if it is, it is still worth considering. Think about it, we sent people to the moon on a dumb idea. This could be our moonshot!
Current editions of the award-winning Residential Resources magazine is sent eleven times a year to members. Join NARPM to receive all of the benefits of membership and receive current editions.
Residential Resources: May 2018 Issue | Volume 29 | Number 5
---
Copyright © 2023 National Association of Residential Property Managers®. All Rights Reserved. Do not reprint without permission.